Jo answers questions from Harry Potter Fan Zone's open letter
8 May 2007 at 06:17 GMT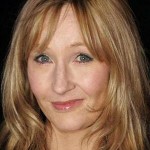 J.K. Rowling has taken the time to answer some of the questions from the open letter we wrote last year!
Ms. Rowling answered questions about Draco's Patronus, Tonks and Myrtle's Hogwarts houses, Death Eaters (Are Alecto and Amycus, the two sibling Death Eaters, the Carrows mentioned by Snape in Spinner's End?), Tom Riddle's birth date (it is indeed December 31), and the properties of Draco's wand.
You can read the answers Jo wrote by clicking here, and the open letter we wrote at this link. Thank you ever so much, Jo!


Tags: Harry Potter Fan Zone, J.K. Rowling - Comments Off on Jo answers questions from Harry Potter Fan Zone's open letter - Permanent Link
Click here for an RSS feed of this comments page.