Tom Felton – a musical artist
10 March 2009 at 03:27 GMT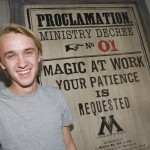 Via Twitter, Tom Felton very recently promised his fans that his song, "In Good Hands" (EP), will be available on iTunes within the next four weeks. He also hinted "5 maybe 6 new songs" and a possible music video.


Tags: Tom Felton - Comments Off on Tom Felton – a musical artist - Permanent Link
Click here for an RSS feed of this comments page.