Happy birthday … Harry Potter Fan Zone!
21 December 2009 at 05:15 GMT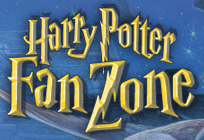 In the early hours of 22 December 2003 a little known fan site appeared online. It looked something like this. From the idea that "it would be cool to make a website", HPFZ was born. Since that day we've been covering book launches, movie releases, nonsensical rumours and everything in between. It's been a blast.
Now entering our seventh year (see what we did there), there's much to come. There's plenty left in the Potter franchise, including a theme park, two movies and a potential encyclopedia. Site wise, there is also plenty on the horizon. Stay tuned!
Finally, a big thank you to all the folks who've helped out with the site these past six years. Kudos to you all.


Tags: Harry Potter Fan Zone - 11 Comments - Permanent Link
Comments
Click here for an RSS feed of this comments page.