Bloomsbury unveil Jim Kay's 'Goblet of Fire' illustrated edition cover artwork
12 March 2019 at 22:10 GMT
Harry Potter publisher Bloomsbury today unveiled Jim Kay's glorious cover artwork for the Goblet of Fire illustrated edition. The cover artwork is reminiscent of many of the Goblet of Fire jackets over the years, featuring Harry facing the Hungarian Horntail during the first task.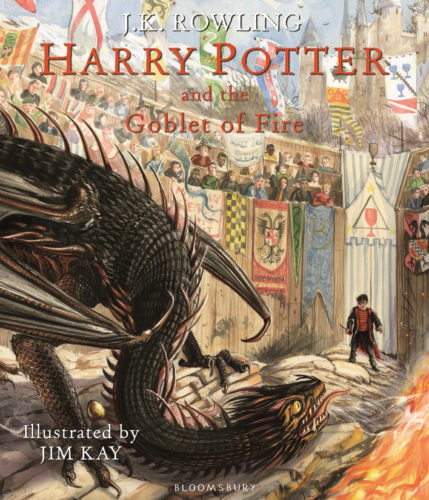 The Goblet of Fire illustrated edition will be published on 8 October of this year. Both a regular and deluxe version are currently available for preorder.
How do I include an avatar graphic?
Please note: The comments page is designed for commenting on the above item. Any off-topic commenting will be deleted. No links or HTML are allowed. To prevent spamming, your first comment will be manually approved by a Harry Potter Fan Zone staff member before it appears on this page. All comments made after that will appear automatically. Your first comment is classified as the first comment you make on Harry Potter Fan Zone, not your first comment on this item.
Click here for an RSS feed of this comments page.