Bloomsbury reveals new covers for 'Quidditch Through the Ages', 'Beedle the Bard', designed by Jonny Duddle
18 October 2016 at 09:31 GMT
Bloomsbury today revealed new covers for charity textbooks Quidditch Through the Ages and The Tales of Beedle the Bard. The new editions are designed by Jonny Duddle, the illustrator who redesigned the UK children's editions of the Harry Potter books.
The front cover of The Tales of Beedle the Bard shows the wizard being chased by the hopping pot, and the front cover of Quidditch Through the Ages features Roderick Plumpton who famously caught the Golden Snitch within three and a half seconds in 1921.
Both new editions will be published on 12 January 2017.
Tags:
Pictures
-
Comments Off

on Bloomsbury reveals new covers for 'Quidditch Through the Ages', 'Beedle the Bard', designed by Jonny Duddle
-
Permanent Link
J.K. Rowling announces 'Fantastic Beasts' series will span 5 films, new poster revealed
13 October 2016 at 21:11 GMT
During a fan event for Fantastic Beasts and Where to Find Them today, Harry Potter author J.K. Rowling announced the series will now span five films. Additionally, a new art-deco inspired poster for the film has been revealed: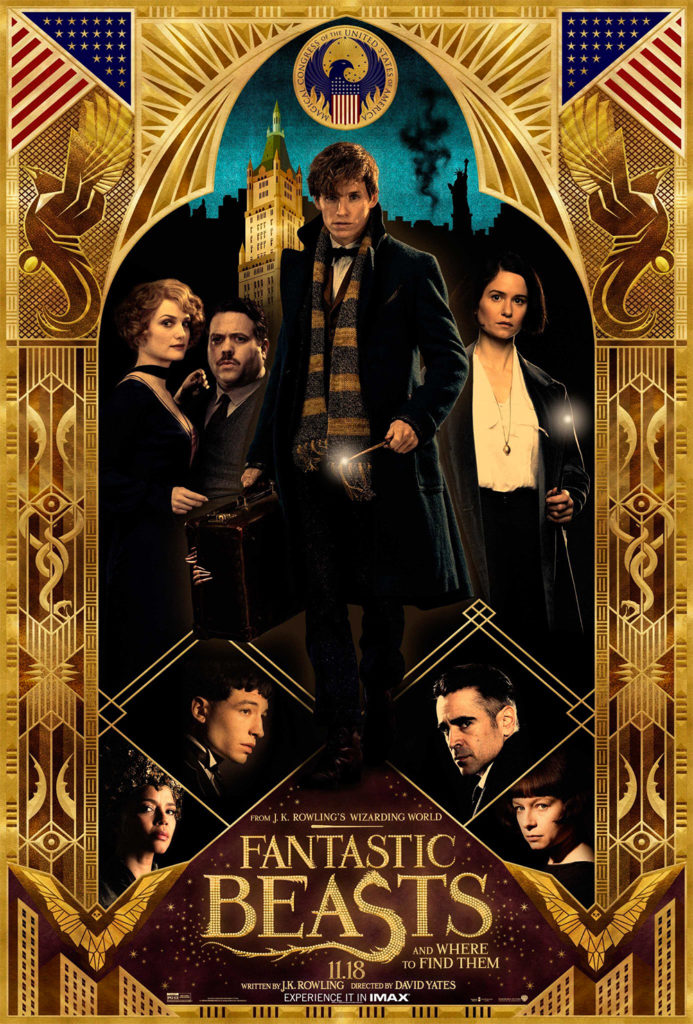 First track from 'Fantastic Beasts' soundtrack revealed along with tracklisting, artwork
7 October 2016 at 12:01 GMT
The first track from the Fantastic Beasts and Where to Find Them soundtrack (composed by James Newton Howard) has been released online. Listen to the main theme below.
You hear the main theme song of the movie play when the main crew arrive at the MACUSA the first time and various other times. You hear this haunting kind of theme. If you had to say what is the theme for Fantastic Beasts and Where to Find Them for now and in the future, it would be that theme. I wrote it on my piano because I believe that if that kind of thing is going to be good, it should be done that simply.
Additionally, the track listing, artwork (below) and more information about the various soundtrack editions have been revealed. Read more about those over at Pottermore. The Fantastic Beasts soundtrack will be released on 18 November.
Listen to a preview of the 'Fantastic Beasts and Where to Find Them' soundtrack
6 October 2016 at 00:26 GMT
A minute-long preview of the Fantastic Beasts and Where to Find Them soundtrack has surfaced online, via composer James Newton Howard's official website. The preview features a short choral piece, as well as jaunty brass and percussion melody.
Listen to an MP3 version of that preview below:
Meanwhile, a special edition of the soundtrack will be released next month. A "Collectable 12″ Picture Disc LP" for the score will be released on November 4. "Pressed onto unique artwork [it will feature] two early demos that helped shape [James Newtown Howard's] musical vision for the film."
You can preorder the special edition here. Composer James Newtown Howard's Hollywood credits include films such as The Sixth Sense, King Kong and The Hunger Games.