Harry Potter Fan Zone meets Evanna Lynch at LeakyCon 2012
22 August 2012 at 12:15 GMT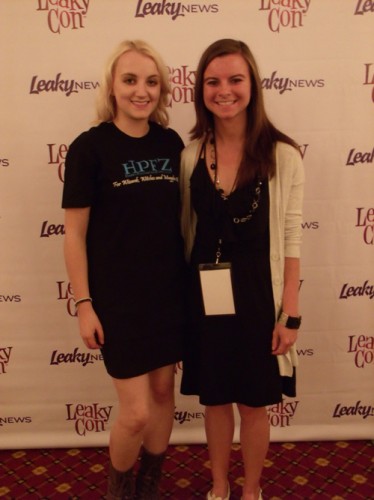 HPFZ's David and Toni Gras recently attended LeakyCon 2012 in Chicago where, among many Potter festivities, they caught up with actress Evanna Lynch — Luna Lovegood in the 'Potter' films (check out her fantastic choice of shirt!). Their report follows:
Potter Passion Prevails! That is the thought of these three reporters from Harry Potter Fan Zone, as we observed and participated in The Leaky Cauldron's third conference, LeakyCon 2012, at the Hilton Towers in Chicago on famed Michigan Avenue from Thursday, August 9 – Sunday, August 12, 2012. The 3800+ fans overtook the Hilton hotel as they roamed the hallways and lobbies dressed in both normal and Potter gear. Huge LEAKYCON banners draped the inner lobby of the Hilton and a Hogwarts castle-like backdrop was displayed on the main stage area to help get us in the mood. The number of attendees was overwhelming, this being the largest LeakyCon conference, beating last year's conference in attendance by approximately 800. This itself says something about the excitement that LeakyCon permeates as Chicago boasts no Potter-themed attractions – which means that all 3800 people came for the conference itself.
As conferences go, we can honestly say that we have never experienced the immense amount of passion and excitement from attendees that we witnessed here. Harry Potter brought together all the attendees in friendship and The Leaky Cauldron web site has helped to cultivate and grow Potter Passion which J.K. Rowling started over 15 years ago – for some of the fans present, they were just barely born but yet they mingled with other Potter fans from near and far at this conference. We could sense the feelings of bonding and closeness with those who feel as passionate about the Potter saga as we do.
Our first day, Thursday, August 9, we had the wonderful opportunity to sit in on two press-only conferences, first with some of the actors from the famed "Star Kid" troupe and secondly with the Harry Potter movie actors that were present at the conference which included Robbie Jarvis (the young James Potter), William Melling (Nigel Wolpert), and the ever-friendly, bubbly and lovely Evanna Lynch (Luna Lovegood). Our HPFZ reporter sat with Evanna for several minutes asking her various questions and Evanna's sweet and humble nature came forth as she talked about her identification with the character of Luna and what Luna has done for her personally.
J.K. Rowling's new book 'The Casual Vacancy' out 27 September
13 April 2012 at 04:41 GMT
J.K. Rowling's new novel for adults is called The Casual Vacancy and will be released on 27 September of this year.
When Barry Fairweather dies unexpectedly in his early forties, the little town of Pagford is left in shock.

Seemingly an English idyll, with a cobbled market square and an ancient abbey, what lies behind the pretty façade is a town at war.

Rich at war with poor, teenagers at war with their parents, wives at war with their husbands, teachers at war with their pupils…Pagford is not what it first seems.

And the empty seat left by Barry on the parish council soon becomes the catalyst for the biggest war the town has yet seen. Who will triumph in an election fraught with passion, duplicity and unexpected revelations?

Blackly comic, thought-provoking and constantly surprising, The Casual Vacancy is J.K. Rowling's first novel for adults.
Jo's website has also been given a revamp and features a comprehensive timeline of everything Rowling and 'Potter'. While you're at it, bookmark thecasualvacancyfanzone.com – it redirects to Harry Potter Fan Zone where we'll be keeping you up-to-date with this new chapter in Jo's literary life.
J.K. Rowling working on a novel for adults, out later this year
24 February 2012 at 00:46 GMT
Harry Potter author J.K. Rowling today announced that she is working on her first novel since 'Potter', a story for adults.
Although I've enjoyed writing it every bit as much, my next book will be very different to the Harry Potter series, which has been published so brilliantly by Bloomsbury and my other publishers around the world. The freedom to explore new territory is a gift that Harry's success has brought me, and with that new territory it seemed a logical progression to have a new publisher.

I am delighted to have a second publishing home in Little, Brown, and a publishing team that will be a great partner in this new phase of my writing life.
The title and release date are yet to be announced, but it's safe to say exciting times lie ahead!
Update: According to a tweet from Jo Rowling, the novel will be released later this year and will be, "very different to Harry". She added, "I've enjoyed writing it every bit as much".
'Deathly Hallows: Part 2' receives three Oscar nominations, snubbed in the major categories
26 January 2012 at 01:01 GMT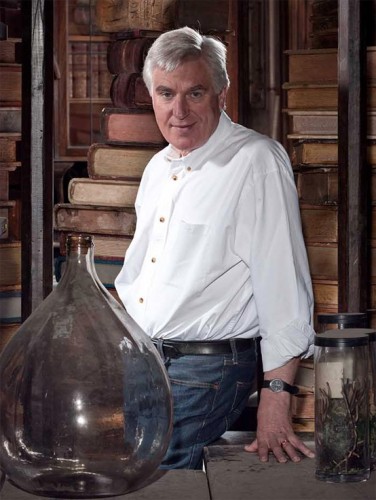 Harry Potter and the Deathly Hallows: Part 2 has received three nominations for the 84th Academy Awards (Oscars).
The film has been nominated for: Art Direction (Stuart Craig, pictured right, for production design and Stephanie McMillan for set decoration), Makeup (Nick Dudman, Amanda Knight and Lisa Tomblin) and Visual Effects (Tim Burke, David Vickery, Greg Butler and John Richardson).
Despite a large push by studio Warner Bros., the 'Potter' films were once again bizarrely snubbed by the Academy for consideration in the major categories.
'Wizarding World of Harry Potter' theme park coming to Hollywood
9 December 2011 at 10:21 GMT
Warner Bros. and Universal have announced plans to expand The Wizarding World of Harry Potter theme park by bringing it to Universal Studios in Hollywood. The park in Florida will also be "significantly expanded".
Harry Potter author J.K. Rowling said of the decision, "I am delighted that The Wizarding World of Harry Potter has been so popular with fans since the opening in Orlando last year and I am sure that the teams at Universal and Warner Bros. will bring their expertise and attention to detail to Hollywood to make this new experience equally as exciting."
James and Oliver Phelps launch 'Harry Potter: The Exhibition' in Sydney
18 November 2011 at 11:50 GMT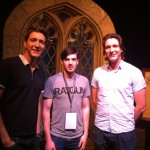 Last night, James and Oliver Phelps (Fred and George Weasley in the Harry Potter films) attended the gala launch of Harry Potter: The Exhibition in Sydney.
I had the pleasure of attending the event, as well as a media preview earlier in the day, which was hosted at Sydney's Powerhouse Museum. James and Oliver, along with creative wizards Eddie Newquist and Robin Stapley, shared a number of interesting facts about the exhibition.
Notably, they spoke about the logistics of bringing such a large exhibition to Australia and some of the more recent props and costumes on show for the first time.
Here are some of the most interesting facts that were shared.
It took 23 shipping containers and 40 days to bring Harry Potter: The Exhibition to Sydney.
At one point, James and Oliver had to have their wands shipped back to Leavesden Studios for 'Deathly Hallows' filming.
There's a mark on one of the Bludgers where it was dropped on set.
There's authentic James and Oliver Phelps graffiti carvings on the Gryffindor table in the Great Hall.
There are new props and costumes on show for the first time in Sydney, including the Hallows and Horcruxes (photos below).
Bellatrix's costume is a new edition to the Sydney display (photo below).
Harry Potter: The Exhibition
runs through until 18 March 2012 at the Powerhouse Museum in Sydney. Tickets are
now on sale
.