A report from Infinitus 2010 and the Harry Potter theme park
4 October 2010 at 12:17 GMT
In July, Harry Potter Fan Zone reporters David, Toni and Courtney Gras attended Infinitus 2010 in Florida and also visited the Wizarding World of Harry Potter theme park. Our intrepid trio has written reports for both events which we can share with you today.
As is the case with all HPEF conferences, there was a vendor room with fine samplings of Potter clothing, souvenirs, fan trips, books and other such commodities. The Potter Art Room and Common Room were in one large area and were frequented often by conference attendees looking for a comfortable place to relax, sing karaoke, be sorted by the larger-than-life Sorting Hat and admire purchased art work. The mascot for the conference was a large dragon in the middle of the foyer which everyone passed on their way to lectures, meals and other events – these reporters argued if it was the Hungarian Horntail or the Chinese Fireball!
Click here to read the rest of the report from Infinitus 2010.
The outdoor setting of Professor Sprout's Greenhouse is bright and lively in comparison to the darkness inside – but wait – if you thought all this was great – Professor Dumbledore has some words of advice for you – and don't hurry by – let others pass you! If all this isn't enough, wait for Harry, Ron and Hermione to guide you the rest of the way from their Defense Against the Dark Arts chamber! Upon seeing the floating candles of The Great Hall, you have arrived – be ready to embark quickly on your ride into the darkness of the Forbidden Journey! Get ready for some tilts and twists on your private car – lots will zoom by you as you follow Harry through many adventures.
Click here to read the rest of the report from The Wizarding World of Harry Potter.
Thanks guys!
Harry, Ron, Hermione on the run in new 'Hallows' poster
2 October 2010 at 06:23 GMT
Check out a new Harry Potter and the Deathly Hallows: Part I poster showing Harry, Ron and Hermione on the run and the tagline, "the end begins" courtesy of MSN.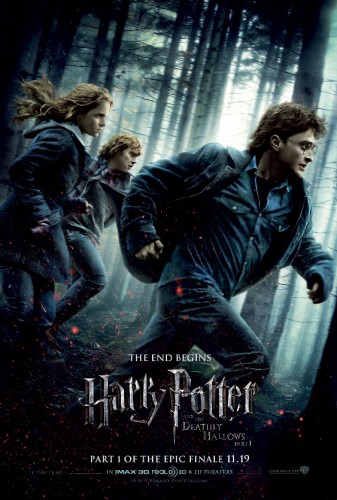 Check out our 'Deathly Hallows' wallpaper collection
29 September 2010 at 13:22 GMT

Harry Potter and the Deathly Hallows: Part I is just around the corner. To keep you in a 'Potter' mood until November, we're bringing you a collection of twenty-four Deathly Hallows themed desktop wallpapers.
Each wallpaper has been designed to fit a number of screen resolutions.
Check the wallpapers out and try one for yourself by clicking here.
J.K. Rowling to appear on 'Oprah' on Friday
28 September 2010 at 00:28 GMT

Harry Potter author J.K. Rowling will appear on the The Oprah Winfrey Show this Friday, October first. The interview was recorded at the Balmoral Hotel in Edinburgh where Rowling completed Harry Potter and the Deathly Hallows back in 2007.
In a wide-ranging interview that took place in Edinburgh, Scotland, Rowling speaks candidly with Winfrey about her life and career as well as her journey to becoming one of the most recognizable writers of children's literature today. Rowling, who rarely does interviews, also shares her thoughts on the possibility of ever writing another Harry Potter book in the future.

Rowling reveals the moment when she knew that her life had changed forever. It was while in the United States on her second book tour: "There was this enormous Barnes & Noble, and I thought, oh my God. And the queue snaked up the street, up the Barnes & Noble, up through four floors and they took me in the back entrance. They opened the door and they screamed. They screamed….That's a real stand-out moment for me. I knew it was getting big in that there was press attention and so on, but at that point, that for me…was when it felt 'Beatle-esque.'"

Rowling also reveals to Winfrey that coping with the pressures of sudden stardom was not easy: "You ask about the pressure. At that point, I kept saying to people, yeah I'm coping…but the truth was there were times when I was barely hanging on by a thread."
Read the full press release by clicking here.
Take a closer look at the 'Deathly Hallows: Part I' trailer
27 September 2010 at 06:15 GMT
Now that the Deathly Hallows: Part I trailer has been online for a few days (watch it here), we thought we'd take a closer look at some of the little details you might have missed on your first (or second, or tenth, or millionth) viewing.
Click each image below for a larger version.