Bloomsbury releasing Harry Potter 'signature editions', new art
30 March 2010 at 10:58 GMT
Bloomsbury today announced that they will be giving the UK Harry Potter books a visual refresh this coming November. The books, classified as "signature" editions, feature new cover art by artist Clare Melinsky.
The new editions, which are being marketed as novels for the, "generation of readers who did not grow up with Harry Potter", will be available on the first of November in paperback. A box set of all seven books will also be released.
The new illustrations are by renowned linocut artist Clare Melinsky and the design has been created by Webb and Webb Design Limited. Clare Melinsky's illustrations follow the style of traditional woodcuts and will appear on the front cover, back cover and spine for all seven titles in the Harry Potter series.

Clare Melinsky commented, 'I was delighted and excited to be asked to illustrate the covers for such massively famous books – and seven of them! It was top secret for the best part of a year.'
Books 1 – 3 will be available for £6.99, while books 4-7 will cost £8.99. The box set will be available for £59.99.
Theme park to open June 18, ride info, John Williams involved
26 March 2010 at 11:46 GMT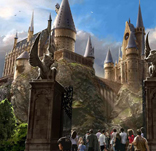 The Wizarding World of Harry Potter theme park will open at Orlanda, Florida on June 18. Additionally, new information has been revealed about the highly-anticipated Harry Potter and the Forbidden Journey ride.
Harry Potter and the Forbidden Journey draws you into the excitement and chaos of Harry's life.  As you venture through Hogwarts castle, you meet Harry, Ron and Hermione who convince you to skip a planned lecture and follow them. Upon taking their advice, you travel by Floo powder, and begin the adventure as you soar over Hogwarts, narrowly escape a dragon attack, have a close encounter with the Whomping Willow, get pulled into a Quidditch match and more.
The ride will also explore Dumbledore's office, the Defence Against the Dark Arts classroom, the Gryffindor common room, the Room of Requirement and more.
The ride combines, "[a] revolutionary, 360-degree theme park experience and first-ever combination of live-action, advanced robotic technology and innovative filmmaking". Additionally, composer John Williams (who scored the first three Harry Potter films) oversaw the ride's musical score.
You can read the complete information about the attraction by clicking here.
Harry Potter theme park opening date revealed next week
19 March 2010 at 10:38 GMT

The opening date for the Wizarding World of Harry Potter theme park will be revealed on March 25 (next Thursday) at 12 PM EST. Additionally, information about the Harry Potter and the Forbidden Journey ride will also be announced.
A preview video can be seen by clicking here.
Stay tuned to HPFZ for more info!