Jason Isaacs on Lucius Malfoy in 'Deathly Hallows'
17 March 2010 at 12:12 GMT

Jason Isaacs has revealed that he had a hand in constructing Lucius Malfoy's send off in Harry Potter and the Deathly Hallows.
"In fact, [Lucius' ending] wasn't planned. It was a decision made about how Lucius should end his bit in the story and we'd been leading up to it for a while and David – the lovely director – came to me and goes "What are we going to do with you that's really great? How are we going to do the ending?" And one day I came up with this thing and he went "gasp Oh that's it! Oh that's it. It'll be great."
You can listen to the whole interview here, courtesy of SS, HPANA, and MuggleNet.
Picture of Hogwarts Express at HP theme park
6 March 2010 at 12:39 GMT
Courtesy of Universal, an image of the Hogwarts Express at the The Wizarding World of Harry Potter. From the official blurb:
The Hogwarts Express arrives at Hogsmeade Station as The Wizarding World of Harry Potter continues to develop at Universal Orlando Resort.  As guests enter Hogsmeade, they will be greeted by the iconic, smoke-billowing steam engine, made famous in the Harry Potter books and films for transporting students to a world of magic and wonder.  Opening in Spring 2010 only at Universal Orlando Resort, The Wizarding World of Harry Potter will feature multiple themed attractions, shops and a restaurant.
Rhys Ifans on 'Deathly Hallows' role
5 March 2010 at 12:12 GMT

Rhys Ifans, the actor set to portray Xenophilius Lovegood in the Harry Potter and the Deathly Hallows films, recently spoke about his role. Ifans humouresly compared the oppurtuninty to appear in the Harry Potter films as, "[like] getting knighted".
"That was great," he said, beaming. "When you're an English actor and you get the 'Harry Potter' call– it's like Batman, you know? You have a phone, you have a normal phone, and then you have one that is made out of wood. That's the 'Potter' people. They call you up [and] you get your wand out, you put your cloak on and off you go. It's a real honor. It's like getting knighted or something."
Read the full interview by clicking here.
Box art released for 'LEGO Harry Potter: Years 1-4'
18 February 2010 at 10:00 GMT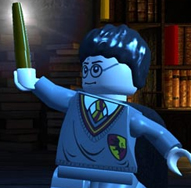 Warner Bros. has kindly sent over the box art for the upcoming 'LEGO Harry Potter: Years 1-4' video game. The game, which will be available in May, will be released on Xbox 360, Wii, PlayStation 3, Nintendo DS, PSP, and PC.
LEGO Harry Potter: Years 1-4 will give gamers the chance to experience the magic and adventure of Harry Potter in a uniquely LEGO way. Playing as Harry Potter, Ron Weasley™ and Hermione Granger™, as well as more than 100 other favorite characters, gamers will have the opportunity to attend lessons, cast spells, mix potions, fly on broomsticks and complete tasks to earn rewards.  Throughout the game, players will also have the freedom to explore iconic settings from the wizarding world including Hogwarts™ castle, Diagon Alley™, the Forbidden Forest and the village of Hogsmeade™.
You can watch two vignettes from the game
here
and
here
.
Thanks to WB.!
Pictures of new 'Harry Potter' LEGO sets
15 February 2010 at 03:25 GMT
A number of pictures of LEGO's upcoming Harry Potter sets have appeared online. The photos, snapped at Toy Fair 2010, show many of the sets (which appear to not be specifically Deathly Hallows-themed). Check out the pictures below (and even more here).
The sets will be available in October. Thanks to MuggleNet for the link!