News articles tagged 'Harry Potter Fan Zone'
James and Oliver Phelps launch 'Harry Potter: The Exhibition' in Sydney
18 November 2011 at 11:50 GMT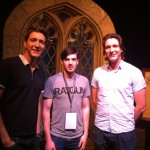 Last night, James and Oliver Phelps (Fred and George Weasley in the Harry Potter films) attended the gala launch of Harry Potter: The Exhibition in Sydney.
I had the pleasure of attending the event, as well as a media preview earlier in the day, which was hosted at Sydney's Powerhouse Museum. James and Oliver, along with creative wizards Eddie Newquist and Robin Stapley, shared a number of interesting facts about the exhibition.
Notably, they spoke about the logistics of bringing such a large exhibition to Australia and some of the more recent props and costumes on show for the first time.
Here are some of the most interesting facts that were shared.
It took 23 shipping containers and 40 days to bring Harry Potter: The Exhibition to Sydney.
At one point, James and Oliver had to have their wands shipped back to Leavesden Studios for 'Deathly Hallows' filming.
There's a mark on one of the Bludgers where it was dropped on set.
There's authentic James and Oliver Phelps graffiti carvings on the Gryffindor table in the Great Hall.
There are new props and costumes on show for the first time in Sydney, including the Hallows and Horcruxes (photos below).
Bellatrix's costume is a new edition to the Sydney display (photo below).
Harry Potter: The Exhibition
runs through until 18 March 2012 at the Powerhouse Museum in Sydney. Tickets are
now on sale
.
Photos from the London 'Deathly Hallows: Part 2' premiere
10 July 2011 at 11:38 GMT
Harry Potter Fan Zone attended the London premiere of Harry Potter and the Deathly Hallows: Part 2 last Thursday. We saw the film which was both amazing and a fitting end to the series.
Here are some of our photos from the event.
'Harry Potter and the Deathly Hallows: Part 2' world premiere tomorrow!
6 July 2011 at 14:25 GMT
The world premiere of Harry Potter and the Deathly Hallows: Part 2 in London is tomorrow!

Harry Potter Fan Zone will be on the red carpet wearing black and blue HPFZ stickers – if you see us, come and say hey.
Live stream of the premiere event:
Stay tuned for photos and videos form the event. We'll also be updating our Twitter account with live updates from the red carpet.
Composer Alexandre Desplat talks to fan sites, Harry Potter Fan Zone
6 July 2011 at 13:51 GMT
Recently, Harry Potter Fan Zone, along with a number of other fan sites, spoke with composer Alexandre Desplat.
Desplat recently scored Harry Potter and the Deathly Hallows: Part 2 (he also scored part one last year).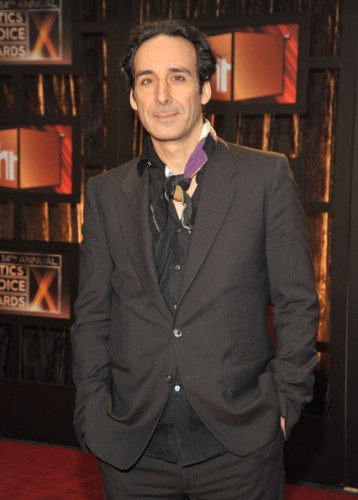 Harry Potter Fan Zone: When you wrote the score for the film, did you find that your ideas came to you very quickly in short bursts, or did they take a long time to develop?
Alexandre Desplat: You know these films are such huge machines–there's such a huge expectation and so much pressure from the past because its the biggest series of the last 10 years–that you have to be very careful and double-check, triple-check that every note you write is accurate and fine, and you want to challenge yourself to be, if not as good, to approach the talent of the master that John Williams is, so it requires a little bit of attention. You can't write a score of that kind in a short amount of time so you need to really try things over and over again. Also on these big machines now, the editing keeps changing and you have to adapt to that, so you need that time to be able to write properly and accurately.
Did you compose the soundtrack for Part 2 as a follow up for Part 1 or did you treat them as separate projects?
When I first was asked to write Part 1, it was not yet signed that I would write Part 2, so, unfortunately, I could not write thinking of the two episodes at the same time. However, there are still some themes of Part 1 which continue in Part 2 like what I call the "Band of Brothers" theme when all the friends reunite at the beginning of Part 1. We hear this theme again in Part 2 and also some of the themes and motifs of "Obliviate," the thing that opens Part 2, that comes back also in Part 2, so there is some continuity.
Did you get to see the first half of the final film with your score added to it, and how did you feel about seeing everything put together?
I saw Part 1 finished a long time again, and it was great. I think the essence of what it portrayed–the sense of loneliness and a loss of childhood–were very strong, and I think it was a great first part.
Since Deathly Hallows – Part 2 was filmed way before it normally would be, did you got more time to score the film, and if so, did that affect your scoring process at all?
I think I had a lot of time to write, a very comfortable amount of time to write, because all together writing it and composing took about three and a half to four months for each episode. When you're filming on set, you can decide on shooting all the scenes that belong to this set and then you can still change them. It's very different with the score. I had to wait until I saw Part 2 edited to be able to start putting ideas together and try to find a sense of an arc and a dramatic sense for the film. There was enough time, and it was hard work for many months but also still very inspiring.
There are quite a few deaths in this film. Which was the most difficult to write, for and were there any that hit you harder than the others?
Death is very present in the Harry Potter story from the beginning because it starts with an orphan who lost his parents, and, actually, the theme of death is very present in this episode, since Lily, Harry's mother, is the lead character of this episode. We start the film with hearing Lily's theme, which will kind of ghost the film all along and be the music thread that will take us from the beginning to the end of the film. So that's one element of death, the people that you miss, the people that you long for, the sorrow, and the question about death and the resurrection stone and how you cope with the death of the people you love. That's very present in the themes that are used and you see it when you see the film and hear the soundtrack that I've tried to be very sensitive and emotional on these matters. The other side of death is, of course, also the battles, the duels, the final battle between Harry and Voldemort, and they are both fighting for death, and there's no mercy. So I wrote some epic and lyrical pieces for these battle moments.
Desplat conducts the score to Deathly Hallows: Part 2
Exclusive preview of our 'Harry Potter and the Deathly Hallows: Part 2' set report
4 May 2011 at 17:05 GMT
Last year Harry Potter Fan Zone visited Leavesden Studios where cast and production crew were busy at work on both instalments of Harry Potter and the Deathly Hallows.
We posted a report detailing everything we saw relating to Deathly Hallows: Part 1 last October, but much of the trip was spent looking at many of the juicy photos, props and sets designed for Deathly Hallows: Part 2.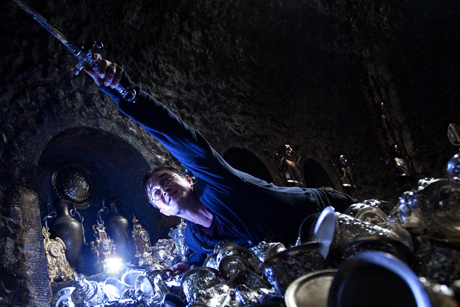 While we can't share the full report just yet, we can offer a few teasers today. There's much more to come leading up to July, including details of our experience watching Alan Rickman (Snape) and the cast hard at work filming a climactic scene during the Battle of Hogwarts.
What's to come?
We revisit the Chamber of Secrets where Ron and Hermione share an intimate moment. You'll actually see the Chamber in the film. The Basilisk is also back, this time as a decaying skeleton.
Gringotts has been greatly expanded too. Production staff are hard at work on building the giant dragon which dwells below the bank and, on our visit, we're given a look at the motion control rig that Dan, Emma and Rupert will ride.
"Harry Potter will never set foot in this castle again" utters Alan Rickman during the filming of a scene in the Great Hall. There are shouts. Statues come alive. We watch numerous takes as the actors perfect this climactic moment.
Of course, we have much to report on the King's Cross scene (there's a really cool Voldemort doll), the epilogue, the Battle, a certain death scene and many other action packed and emotional moments in Deathly Hallows: Part 2, but that will have to wait for now.
Stay tuned!
Happy new year!
31 December 2010 at 22:37 GMT
To all our readers, a happy new year! There are now only 195 days until Harry Potter and the Deathly Hallows: Part 2 is released.